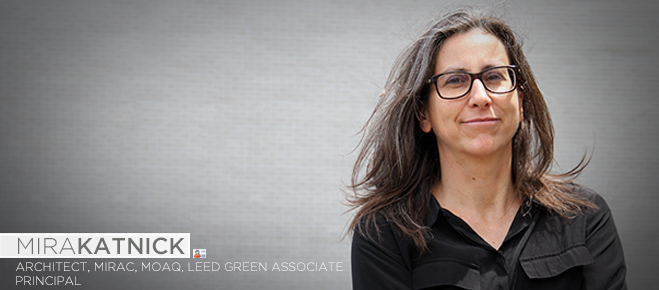 Born in Montreal, Mira's interests in architecture were picked at a young age by her architect father. Throughout her years studying architecture at McGill, she was fortunate to find summer work with the firms Urbandale Construction Limited and Aediculae, which provided her with a strong understanding of the depth and work involved with both commercial and residential projects.
Upon completing her Bachelor degree in 1993 with an award in the Murdoch Laing Design Competition, Mira left Canada to pursue research
interests in India, resulting in the publication of: "A Pattern Language, vol. 2 – Tora Village".
Returning to Montreal in 1995, Mira joined the ARCHITEM, Wolff, Shapiro, Kuskowski team, where she has had the opportunity to work on commercial, institutional, and residential projects. Her technical fortitude paired with a flair for design, has made her invaluable as a part of the ARCHITEM, Wolff, Shapiro, Kuskowski team.